Thank you for thinking of families working with FCC this holiday season! You make a difference in supporting the journey to long-term safety and stability. We have two pathways for supporters to engage during the holiday season: family sponsorship and programmatic wish list support.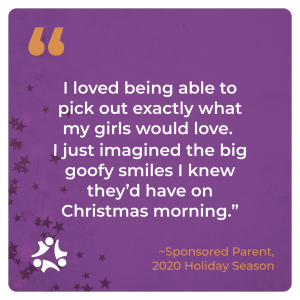 Each year community partners and supporters sponsor families working to rebuild after experiencing Intimate Partner Violence. The gift of holiday family sponsorship allows parents to create a meaningful holiday experience for their family. Last year, thanks to you, 89 individuals were sponsored through generous gifts reaching over $36,000. This year, we hope to raise $40,000 to serve more families. FCC's model of family sponsorship connects with our operating principle of supporting the autonomy and capacity of families and their goals by assisting with resources while they continue the hard work of staying safe and moving boldly forward. 
The dedicated Service Coordination team works with each family to budget their sponsored holiday funds to ensure each person receives what they need. Our goal is that each family member receives 2 new outfits, 1 new winter coat, 1 new pair of shoes, and 2 toys/ wish items. The magic of this model is that the parents are picking out coats, outfits, shoes, and wish items they know their child will love. 
Please explore the below drop-down menus sharing programmatic supplies and support needs. "Holiday Programmatic Wish Lists" includes PDF versions of each list, with the below sections further segmented through Amazon Wish Lists to serve as convenient shopping inspiration. 
Thank you for joining our mission: fostering safe homes, thriving families, and strong communities by supporting individuals and families experiencing intimate partner violence.

Your support truly makes a lasting impact on those we serve now, and into the future.
---
Financial Contributions
Each year FCC provides comprehensive services to over 6,000 families in the area who are experiencing the effects of conflict and violence. We also serve as an important consultation and educational resource to the community at large.
We are proud to be a 501(c)3 nonprofit organization that devotes nearly 90% of our operating budget to direct services for families. The impact of your gift is significant and truly makes a difference to those we serve. Thank you for investing in a brighter future for families.
Last year the Family Crisis Center of Baltimore County, Inc. received over $1.5 million in grant and donated dollars. Thank you to our generous donors.
You can make a difference by providing financial and material support.
You can make a difference by donating goods. Families working with FCC benefit from your generosity and gifts of new and gently used clothing, accessories, toiletries, household items, and program supplies.
All donations are accepted by appointment only. Please contact us to set up a donation appointment.
Make a Donation Appointment Today
Please explore the below drop-down menus sharing programmatic supplies and support needs. We welcome supporters to use these lists as inspiration and for convenience, items purchased through wish lists will automatically ship to our administrative offices. Amazon wish lists are updated monthly to reflect the immediate and forecasted needs to continue our mission: fostering safe homes, thriving families, and strong communities.
Frequently Asked Questions